Pressure Washing & Cleaning
We can pressure wash anything from patios to tall buildings, roof tiles, chimneys and all other brick, stone and concrete. Our pressure washing techniques help give you peace of mind.
Pressure washing is a safe and simple means of removing the staining and overall dullness that will inevitably develop on any building over the years. With no toxic chemicals or harsh substances used, surfaces can be thoroughly cleaned using a hot/cold water based jet spray bringing with it a new level of freshness that may have faded from your property years before.
Algae and moss can be unsightly but also dangerous if left untreated on driveways, paths, play areas, walkways, decking, pavements or any other areas that are used by the public & yourself. This is something we can also treat for you.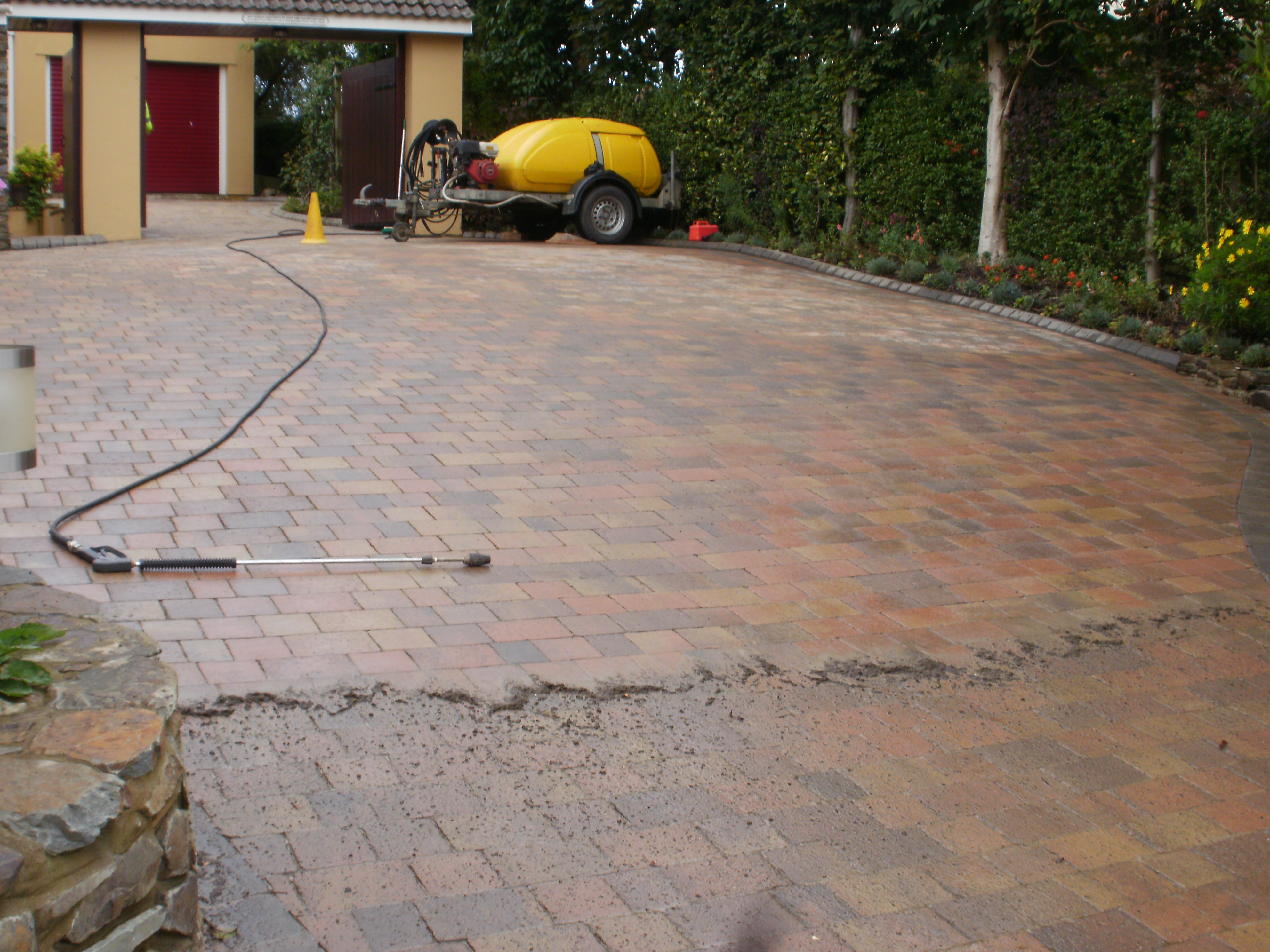 Pressure washing is especially useful for removing chewing gum, graffiti, algae and moss, as well as oil, dirt and grime from walkways and other surfaces.
We offer a comprehensive pressure washing service. We have several different machines depending on the type of cleaning restoration job you have for us, including hot or cold and diesel or electric. We also carry out cleans on historic and listed buildings. We have lots of experience in working at heights over the last 24 years in business.
We will also re-sand any jointing material that may be dislodged during the cleaning process, so all weeds can be removed, with peace of mind that the jointing will be re-instated like new! We will brush in all the jointing with fresh sand.
We have just invested in two new machines we now have a towable Pressure washer which is more powerful has its own water & power supply, which enables us to work in any area independently.
We also now have a machine to clean the inside/outside of high level Gutters. The machine is specially made & no need to use customers electric or water and can be used on isolated properties. Maintenance work on your property is very important & will prevent blockages, causing water ingress, staining to walls & mould inside your property. We also have the facilities to take photos/videos of the conditions inside the guttering with our gutter camera, this allows us to inspect/video, before and after photos of your gutters. This machine can also clean high level walls, cladding, signs, fascias, etc on commercial properties which will enhance your business. We can work up to a height of approx. 40 Ft with our own specially bespoke vacuum machine system & poles. The machine allows us to spray water to dislodge and then vacuum dirt, debris, leaves, away into our own unit.
The work can now be carried out from the safety of the ground therefore saving money in scaffold/towers, and the health and safety risks are minimised.
Mark is now licensed to work on mobile Elevating Platforms & is a member of the International Powered Access Federation. We can now work from boom/scissor lifts etc, which will save you money by not needing scaffold & the work can be carried out quicker.
We can put together a regular maintenance package to suit your needs, with scheduled visits to keep you building looking at its best or we can undertake one-off restoration work. Get in contact today.
We can clean :
Buildings
Historic and listed buildings
Driveways
Decking
Conservatories
Fascia boards
Roof tiles
Chimneys
Patios
Gutters
High level signs
Walls
Paths
K Render
Cladding Cleaning
Brick Cleaning
In these areas:
Barnstaple
Bideford
Braunton
Bude
Dartmouth
Exeter
Exmouth
Honiton
Ilfracombe
Launceston
Newton Abbot
Ottery St Mary
Plymouth
South Molton
Tavistock
Tiverton
Torquay
Torrington